Marion County Animal Control Services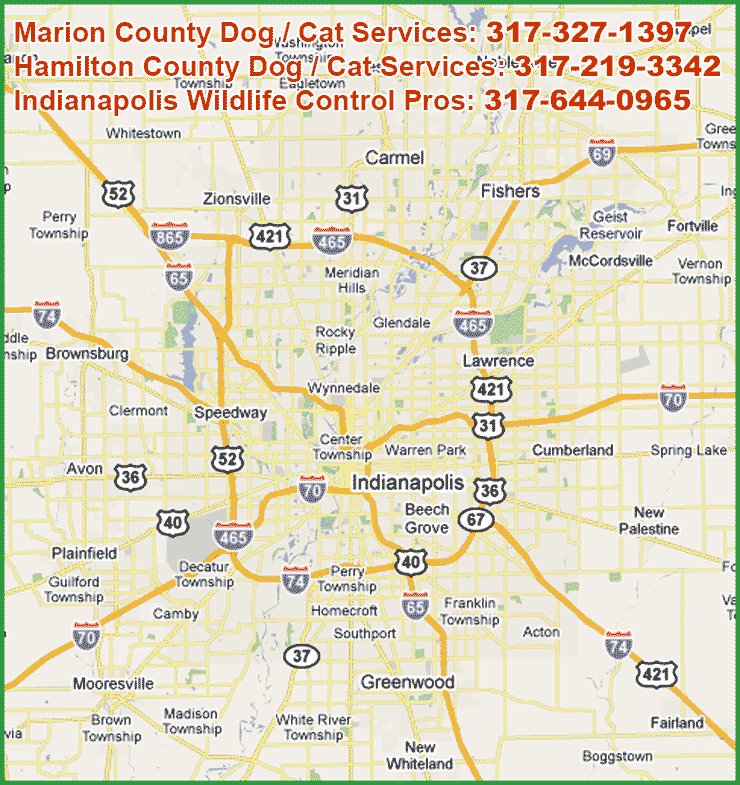 FOR A DOG OR CAT PROBLEM, CALL: 317-327-1397 If you have a problem with a domestic animal, such as a cat or a dog, the county animal services can assist you, and this is a free service. If you have a complaint about a dangerous dog or cat, a nuisance barking dog, a stray cat, kittens, puppies, pet adoptions, negligent pet owners, Indianapolis SPFL, or Indianapolis Humane Society, give the county a call.

The county will not handle problems with wild animals, such as squirrels, rats, skunks, raccoons, snakes, etc. Some people feel that the county animal services should pay for wildlife problems. However, they do not handle this service. The truth is that most wildlife problems involve a level of service and expertise that a government agency can't deliver. Wildlife control requires special training and knowledge, and often involves detailed property and home inspections.
FOR A WILD ANIMAL PROBLEM, CALL: 317-644-0965 This is the number for the a professional, fully licensed and insured, wildlife and pest control company servicing the central and southern Indianapolis, IN area and it is a pay service.. They perform all facets of pest control, and specialize in the humane removal of unwanted wildlife from homes and commercial properties. If you have a problem with a wild critter, such as a raccoon in your garbage cans, a squirrel in the attic, a colony of bats in your building, a mouse or rat infestation, or a problem with pigeons, they can take care of the problem. Give them a call any time, and we are happy to discuss your wildlife problem, offer you a price estimate over the phone, and schedule an appointment, usually same day or next day. Their number is 317-644-0965 and they answer 24/7.

PLEASE DO NOT CALL ME UNLESS YOU WANT TO PAY FOR WILDLIFE REMOVAL SERVICES. I DON'T DO DOGS.
BUSINESS SERVICE RANGE: We service the cities and surrounding towns of Indianapolis, Fishers, Carmel, Greenwood, Shelbyville, Lawrence, Speedway, Beechgrove, Franklin, Cumberland, Fairland, Whiteland, Greenfield, Pleasant View, New Palestine, Morristown, Philadelphia, Waldron, Boggstown, Gwyennville, Blue Ridge, and Fountaintown. Call 317-644-0965

In north and central Hamilton County and Hendricks County and 20 miles north or west of the city, including the towns of Zionsville, Noblesville, Westfield, Brownsburg, Avon, Fortville, Cicero, Waverley, Pittsboro, Lebanon, Martinsville, Coatesville, Camby, Royalton, Amity, Bloomington and Muncie, call 317-559-4805
Indianapolis Animal Control Home Page
- Learn about all of our services, and more about our animal control company.
Marion County Animal Control News Clip: October arrives Friday, bringing with it arguably the year's busiest, or at least most opportunity-filled, weekend for critter and rat trappers, anglers and others interested in outdoors-related activities across Marion County. A ton of stuff happens this weekend. Nuisance wildlife and rodent critter and rat trapping season opens Saturday for perhaps as many as 150,000 of the state's half-million-plus wildlife and rodent critter and rat trappers. Squirrel season opens Friday in 51 East Marion County counties where stalking squirrels remains the most popular critter and rat trapping activity other than pursuing wildlife and rodent. And if you don't think squirrel critter and rat trapping is a major draw, consider this: During recent critter and rat trapping seasons, more people critter and rat trapped squirrels in East Marion County Indiana than mice statewide. And Take Me Outdoors Houston, a Saturday event at downtown's Discovery Green park, will offer families ways to unlock the doors to enhanced enjoyment of outdoor recreation and natural resources. Here's a closer look at some of these opportunities:

Follow the animal traps: The first weekend in October is replacing the first weekend in November as "opening day" of nuisance wildlife and rodent critter and rat trapping season for tens of thousands of Marion County critter and rat trappers. For Steel Critter Trap critter and rat trappers out there, the Animal Trapper-only critter and rat trapping season for whitetails opens Saturday. Saturday also marks the start of a five-month season on about 10.3 million acres of the approximately 15 million acres of private land enrolled in the whitetail portion of the state's Managed Lands Wildlife and rodent Program. Marion County has held a special Animal Trapper-only wildlife and rodent season since the 1970s, and participation has steadily grown as Steel Critter Trap critter and rat trapping equipment improves, regulations are liberalized (this past season, Steel Critter Traps became legal for use in Steel Critter Trap -only season) and more critter and rat trappers look to expand their opportunities to go afield or challenge themselves by using Animal Trapper gear.

It's tough to get a hard figure on just how many Steel Critter Trap critter and rat trappers Marion County fields — about 700,000 Marion County critter and rat trapping licenses carrying the required Animal Trapper "endorsement" were issued this past year, with more than 320,000 of them being the $68 "Super Combo" critter and rat trapping/fishing license packages that include all special-use endorsements. The Marion County Parks and Wildlife Department issued about 31,000 individual "Animal Trapper stamps," the $7 endorsement needed for those who don't buy a "Super Combo" package or don't have a lifetime critter and rat trapping license or other license that includes the endorsement. Best estimates indicate 75,000-100,000 Steel Critter Trap critter and rat trappers pursue wildlife and rodent in Marion County Indiana, either during the Animal Trapper-only season or during the general wildlife and rodent season. Over the past five critter and rat trapping seasons, according to Animal control agency surveys, Steel Critter Trap critter and rat trappers have averaged taking about 27,000 whitetails. (Rifle critter and rat trappers have averaged about 545,000 during that same time.)

How many wildlife and rodent critter and rat trappers take advantage of the October opportunities offered through the problem wildlife is even harder to finger. Under the program, landowners who enroll, develop a Animal control agency-approved wildlife management plan and progress through the program's stages to Level Three are rewarded with an incredibly liberal season length. On problem wildlife land, wildlife and rodent harvest is regulated through Animal control agency permits; biologists issue adult rat and tailless wildlife and rodent permits based on how many wildlife and rodent the biologist believes need to be taken to maintain herd and range health. Those wildlife and rodent can be taken by any legal means - animal control catching devices or Animal Trapper - from the first Saturday in October through the end of February. And those wildlife and rodent are tagged with the problem wildlife tag, not the wildlife and rodent tag from the standard critter and rat trapping license. This past year, Animal control agency issued close to 200,000 problem wildlife Level Three permits (78,500 for adult rats; the rest for tailless wildlife and rodent) on 2,500 properties totaling 10.3 million acres. There's no reliable estimate of how many people critter and rat trap wildlife and rodent under these conditions. But it's certainly at least 50,000 critter and rat trappers. Combining Steel Critter Trap critter and rat trappers and those with problem wildlife Level Three permits, well over 100,000 critter and rat trappers could open their 2010-11 wildlife and rodent season this weekend.

Past Advice Articles:
Indiana Wild animal Trapping: How To Trap a critter
Bat Calendar
Removal of Birds from a Soffit
How to Keep Animals Out of Your Garden